Your New Year getaway at Chesters Stables
By Walwick Hall
December 02, 2022
Chesters Stables
Explore Northumberland
A new year brings new opportunities to enjoy new experiences and, at Chesters Stables, we invite you to spend January in rural Northumberland and relax like never before. Whether you are looking for a romantic bolthole or quality time with friends and family, our self-catering suites help you reconnect with loved ones at your own pace, while extending your holiday season. Each of our seven suites boasts spacious living areas, deluxe bedrooms and handmade kitchens, but they also provide something different, depending on the kind of getaway you're looking for.
The extended group getaway
It's always wonderful to catch up with loved ones, whether it's at your home or theirs, but there's nothing quite like an escape to somewhere where you each have your own space. Sleeping eight guests, The Clocktower offers close-knit groups the chance to recharge their batteries after an exciting festive season. From one extended family to four individual couples, The Clocktower provides enough room for everyone in your party to relax, courtesy of four large bedrooms, complete with an en-suite bathroom, while its expansive glass-fronted living room and kitchen area allow everyone to enjoy each other's company.

The large family getaway

 
At Chesters Stables, we have three suites that sleep six guests, making them ideal for big families or possibly three couples to discover Northumberland and spend time together in style. The Smithy, The Carriage House and The Foal all offer a memorable stay in contemporary settings. Warm tones, natural light and open-plan spaces allow everyone to instantly feel at home in their luxurious accommodation, while the en-suite bathrooms include either a luxurious bath to unwind in or a shower to reinvigorate yourself. While The Smithy has its own private rear terrace area, which is simply ideal for celebrations, The Carriage House and The Foal are both dog-friendly, meaning your loyal companions can accompany you on your elegant January stay.
The cosy getaway

 
Sleeping four guests, The Stalls and The Hayloft both offer small groups and families the chance to make memories in beautiful surroundings. While The Stalls provides a homely ambience, created by welcoming decor and an original exposed stone fireplace, The Hayloft's exposed wooden beam ceiling and stylish fireplace offer a distinctly contemporary feel. The dog-friendly Stalls are a comfortable space for the whole group to experience ultimate tranquillity, while The Hayloft's remarkable layout, with upstairs living, kitchen and dining areas, provides guests with an idyllic country retreat.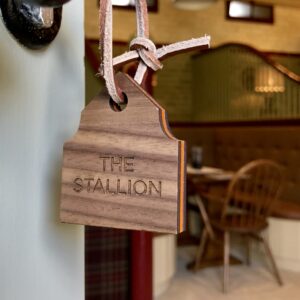 Should you be looking for an intimate escape after a busy end to the year, The Stallion offers a romantic stay in charming surroundings. Begin 2023 by reconnecting with each other in our one-bedroomed suite that boasts many of Chesters Stables' original equestrian features and commands views of the sweeping countryside.  Dog-friendly and distinctive in design, The Stallion's king-sized bedroom, spacious en-suite bathroom and cosy living space make it the perfect place to take some time for yourselves before the new year commences in earnest. A stay at Chesters Stables always provides an ideal opportunity for you and yours to make cherished memories and, with our boutique country hotel nearby, your escape to Northumberland will be luxurious, relaxing and memorable.
From exquisite dining experiences created by our award-winning chefs to harmonious spa treatments provided by our trained therapists, your new year will begin with an ultimate rejuvenation.