Meet Laurèns Le Gal, Walwick Hall's Sous Chef and Pastry Chef
By Walwick Hall
June 23, 2022
Uncategorised
At Walwick Hall, our exquisite dishes are more than just meals; they are luxurious experiences our guests can indulge themselves in.
The man behind many of our masterpieces, Sous Chef and Pasty Chef Laurèns Le Gal took the time to talk us through his passion for making distinctive dishes, as well as who inspires him and how he creates memorable dishes. 
What has been your favourite memory of your time at Walwick Hall?
Day one, which seems like a long time ago now! I started before Walwick Hall was even open and, to walk into a brand new kitchen, with every appliance, is every chef's dream! Don't get me wrong, there have been some incredible memories since but this has been the stand-out one for me – other chefs will know what I mean.
You have just launched a beautiful new Afternoon Tea menu ready for the summer. Can you tell us how you came up with this?
I don't come up with ideas for Afternoon Tea easily. It requires a lot more work than normal desserts, as it needs to be incredible, but in a little portion. It should also last a lot longer in time for guests to be able to enjoy the pastries an hour or more after being served.
For this spring/summer Afternoon Tea, I wanted to bring colours, fresh fruits and fresh flavours. I left the likes of apples or pears behind and focused on garden berries, citrus and fragrant tea flavours. Anything that I would personally like to eat during the warmer days, to be honest. 
I particularly like "The Cube", a zéphyr caramel chocolate mousse, encasing a barely sweetened jasmine tea and hibiscus flower jelly, with a crunchy feuilletine base. For me, it's a great balance between the sweet, rich mousse and fresh, acidic jellies inside.
Your influences are clearly French, but who are your cooking inspirations?
I come from a family of chefs. My brother is a chef and took over our parents' restaurant recently in our home town in France, Restaurant La Pergola. My parents opened the restaurant in 1985 and it's great to know that it's staying in our family. Both my brother and my dad have always been huge cooking inspirations for me. 
Others include the likes of pastry chef Yann Couvreur, Michelin-star winning Anne Sophie Pic and chocolatier Vincent Vallée. I look at a lot of their work and it both pushes me and inspires me on my own.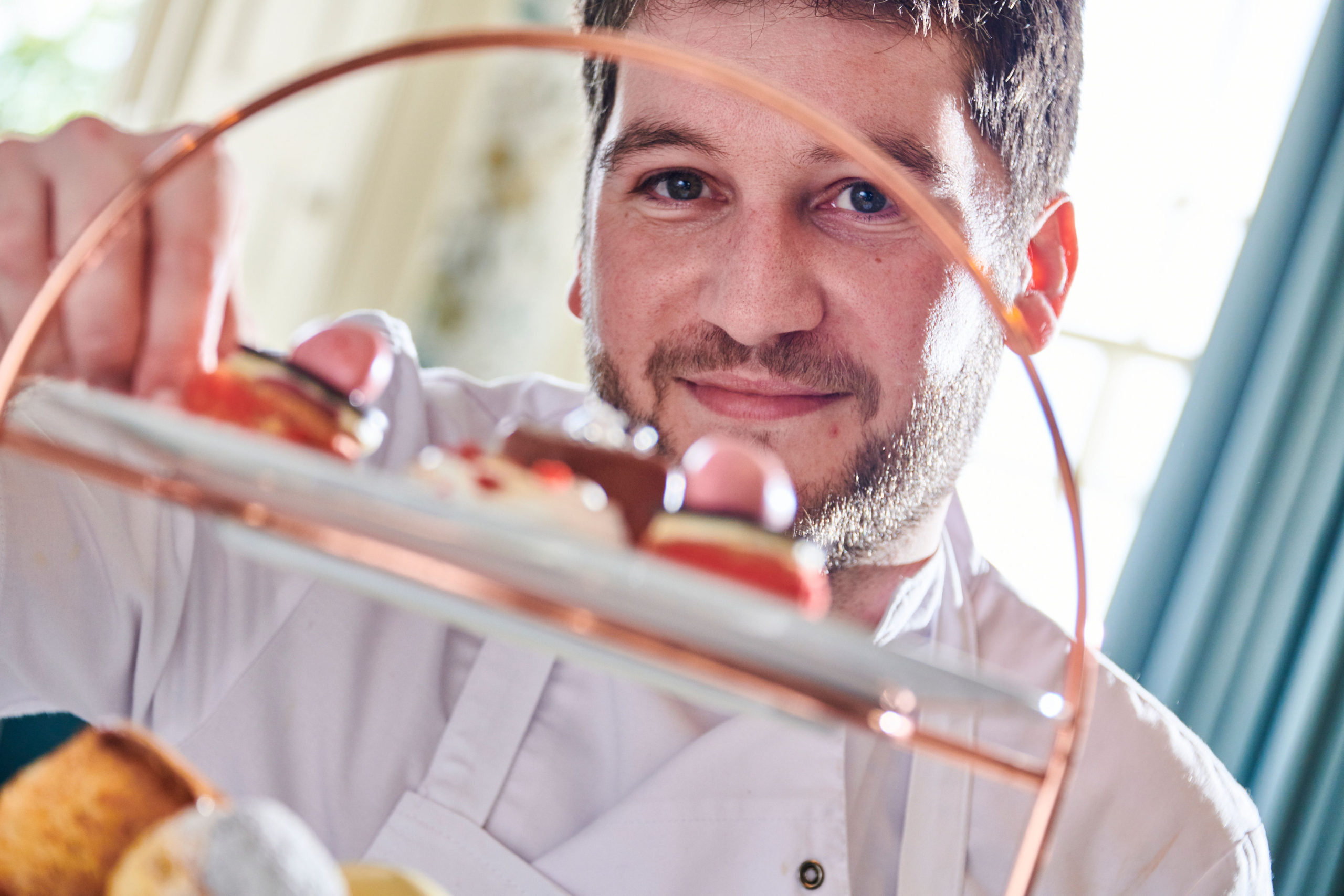 Tell us about a typical day in the life of a chef at Walwick Hall.
Everything is freshly made at Walwick Hall, and this season sees us using a lot from our exclusive Kitchen Garden. I like to pick the fresh fruits and vegetables that I'll need that day in the morning before I enter the kitchen. 
I then start my Afternoon Tea preparation for the day before Lunch and Afternoon Tea services. During those services, I enjoy doing all of the little preparation that doesn't monopolise too much of my time. 
I then clean down and start on evening service which includes making fresh bread, butter, and evening prep ready for that service. During dinner service, I organise myself for the next day, ensuring all the ingredients and preparation for Afternoon Tea are ready. 
Every day in the kitchen is different, to be honest, which is why I love it. Some days, I spend a lot of time doing Afternoon Tea prep, or chocolate and sugar work for our Petit Fours, other days, I'm solely preparing for Tasting Menus and Dinner Menus. When I do manage to have "spare" time during the day, I love experimenting with new ideas for different flavours to be used in future menus and Afternoon Tea.
If you didn't work in the kitchen, where would you see yourself?
I think I would like to work around plants and gardens. My mum and grandmother always had a huge collection of both indoor and outdoor plants, so it has always been something I have been interested in. I love growing them myself and I do actually have a huge collection at home. Perhaps far too many, to be honest.
Do you have any future goals?
I am forever trying to push myself and learn more. I love learning new skills that I can then adapt and incorporate into new menus.
One day I would love to own my own pastry shop, with a French touch, obviously. 
Laurèns is an exceptionally talented chef who utilises his passion for exciting new flavours to truly indulge guests at Walwick Hall Hotel.
Each of his concepts expertly blends quality ingredients from our unparalleled larder, fresh vegetables from our own kitchen garden and the finest local suppliers, creating uniquely Northumbrian triumphs that provide maximum flavour.    
Experience Laurèns' culinary masterpieces. Book your table.