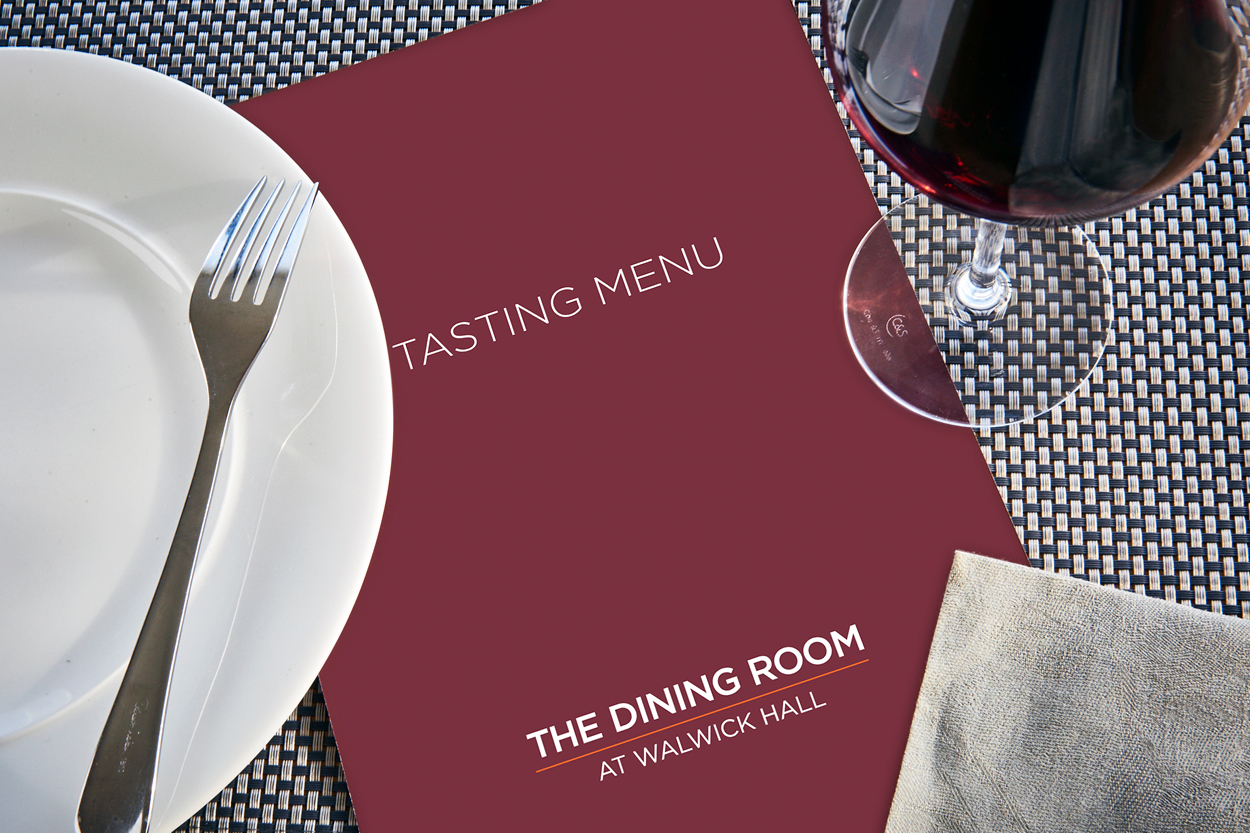 As we welcome the beginning of August, we also welcome a collection of brand new seasonal menus to The Dining Room. Each of our new menus has been carefully put together by our talented team using locally sourced ingredients inspired by the freshest flavours of the season. Whether you're a meat eater, vegetarian, prefer fish or require vegan options, there's a something indulgent for everybody to enjoy. Read on to find out a little more about what each of our new menus has on offer for you this August and September…
Dinner menu
Full of beautiful seasonal dishes, our new Dinner menu celebrates the wonderful produce that the months of August and September bring. Our Roast Haunch of Venison makes the perfect hearty main course option, served with rosti potato, textures of beetroot, kale and bitter chocolate sauce. Or if you're after something a lighter, opt for our Aubergine, Courgette and Tomato Mille-Feuille (V) – or perhaps our new Roasted Spiced Monkfish Tail with braised lentils and curried and smoked mussels will hit the spot?
Round off your evening with our indulgent White Chocolate Creme Brûlée or light Raspberyy Pannacotta. If the sun's shining, finish with our delicious strawberries served with vanilla parfait strawberry jelly, feuilletine and Szechuan pepper Chantilly for the perfect summer treat.
Click here to view our new Dinner Menu
Available every day, 6:30pm – 9:30pm
Lunch menu
Our new Lunch menu offers a variety of new vibrant flavours for guests to sample, alongside favourites from our catalogue of classics. On those balmy summer days, dine alfresco on our terrace and indulge in our Grilled Fillet of Hebridean Salmon or a fresh and seasonal salad. When weather isn't so kind, our brand new Walwick Chicken Kiev is sure to brighten up your afternoon. And with 8 dessert options on offer, we guarantee that temptation won't be far away.
Click here to view our new Lunch Menu
Available every Monday to Saturday, 12pm – 2:30pm
Tasting menu
Enjoy a selection of delicious new seasonal dishes from our beautifully crafted new Tasting menu. Our Tasting menu is carefully created by our award-winning Head Chef to take diners on a 5-course culinary journey like no other. Alongside each course, guests can choose to add an exquisite wine package to their dining experience, consisting of specially selected wine pairings that enhance the seasonal ingredients in each dish and encourage the flavours to shine through.
Our Tasting Menu for August and September comprises of dishes that feature in the Relish (North East and Yorkshire) cookbook.
Click here to view our new Tasting Menu.
Available Monday to Saturday, 6:30pm – 9:30pm and Sunday, 7pm – 9:30pm
Early Evening menu
Our latest Early Evening set menu offers a selection of new dishes for the same great value, with 2 courses for £15.95 and 3 courses for only £19.95. Start your meal with Sweet Potato, Carrot and Halloumi Fritters (V), served with lime mayonnaise for a zesty punch. Prefer a little crunch? Opt for a fresh Garden Tomato, Red Onion and Mozzarella Salad. For mains, our Beetroot and Goat's Cheese Gnocchi will offer an intense flavour experience while our Chicken Superfood Salad will keep health-conscious diners smiling. To finish, we recommend the Blueberry Tart or Vanilla Parfait.
Click here to view our new Early Evening Menu
Available every Monday to Saturday, 5pm – 6:15pm
Sunday Lunch
There's nothing quite like a Sunday lunch – and there's nowhere that does a Sunday lunch quite like Walwick Hall. Our award winning Head Chef and his team have devise a new Sunday lunch menu for guests to enjoy with family and friends. Alongside all our traditional roast dinners with all the trimmings we have a number of brand new starters, mains and desserts on offer. Each and every dish is freshly cooked and uses the very best seasonal ingredients to offer a truly delicious dining experience for Sunday afternoon visitors.
Click here to view our new Sunday Lunch Menu
Available every Sunday, 12pm – 5:30pm
Brunch menu
Wake up your tastebuds with Brunch at Walwick Hall . Every Monday to Saturday, our chefs are bringing their talents and passion to a Brunch menu that puts flavour, leisure and luxury first. And with serving times lasting from 10am until noon, there's no need for later risers to rush, either. The menu presents a selection of all the savoury brunch classics you'd expect, including smoked salmon, bacon, eggs and sausages, as well as more unique savoury delights such as our flavour-filled Breakfast Flatbread served with the perfect combination of avocado, cherry tomatoes, feta and poached eggs.
Prefer something a little sweeter to start your day? Sample fresh seasonal fruits, fluffy Blueberry Pancakes with banana and maple syrup, or Belgium Waffles complete with berry compote and orange crème fraîche. Or perhaps our fresh Baker's Basket and a pot of fresh tea is all you need to enjoy the perfect morning? Whether you're joining us for a midweek treat or a leisurely Saturday morning, Brunch at Walwick is truly an occasion to make your own.
Click here to view our Brunch Menu
Available every Monday to Saturday, 10am – 12pm
You can view all of our new menus and book your table here.